Marine Surveys & Consultancy International
Nominated Surveyor Level 2
An explanation of the United Kingdom M.C.A.'s
"Code of Practice for Safety of Commercial
Sailing and Motor Vessels"
Note:- This is intended as a general guideline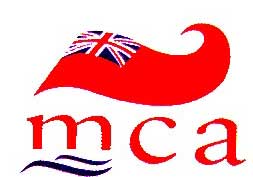 What is it?
It is a Code of Practice developed by the UK, with its overseas territories (Bermuda, Cayman Islands, Gibraltar, Isle of Man), and published by the UK Maritime and Coastguard Agency (MCA). The Code gathers together and redefines in one document all the safety and operational rules and standards, from UK regulations and International Conventions, which already apply but have rarely been enforced on commercially operating yachts.
The Code recognizes that:
"Vessels in commercial use for sport or pleasure do not fall naturally into a single class and, in any case, prescribed merchant ship safety standards may be incompatible with the safety needs particular to such vessels."
and accordingly sets standards which are judged to be equivalent in effect to those required by the conventions, but which still "identify with the specific needs" of yachts.
There have always been international safety requirements for all commercial vessels over 24 metres, however these have very rarely been enforced for private charter yachts in the past. As yachts have now become larger and more numerous, and chartering is a major worldwide business, it is inevitable that governments will expand their aggressive Port State Control inspection system to commercial yachts. The international safety and construction rules were written for merchant ships of many thousands of tons and quite impossible to apply to yachts.
The MCA has produced this "Code" as a substitute for the stringent international rules, after several years of negotiation with the yachting associations and yacht designers. It is unique as it recognizes and supports our industry as a defined professional entity. Other countries are now expected to adopt it in a similar form, including the USCG and EEC.
It applies to yachts of the which:
are in commercial use for sport or pleasure, thus not "pleasure yachts",
are up to 24 metres or over in load line length, or 150 gross tons (GT) and over if built before 21 July 1968, (separate Codes already exist for vessels under 24 metres).
do not carry cargo
do not carry more than 12 passengers.
The definition of a "Pleasure Yacht" is attached. Clearly when chartering, the vessel no longer fits that definition and becomes a "Commercial" vessel and must comply with the Code of Practice.
What issues and regulations does the Code deal with, and how?
The Code covers all aspects of safety including construction, stability, installations and equipment, fire and life saving appliances, pollution prevention, survey and certification, and manning. In preparing this unique set of requirements, the MCA has still had to conform to IMO (International Maritime Organization) rules and conventions such as , SOLAS, and MARPOL, where they may apply. For example, there are significant distinctions between yachts under 500GT and less than 50m in length, and yachts over 500GT or 50m and over. The "International Convention on Load Line" applies to all commercial yachts if over 24 meters, and the larger yachts over 500GT must also meet the standards of the "International Convention on the Safety of Life at Sea" (SOLAS).
Construction and Installations: The International Load Line Convention sets standards of construction, strength and subdivision and the criteria for minimum stability and freeboard. All vessels will require stability information and to undergo an "inclining experiment". Class Societies issue Load Line Certificates, and if a vessel has been built to Class, a certificate can be more easily obtained from this organization.

The Code of Practice details standards of machinery, electrical, steering and pumping installations for yachts under 500GT, and imposes SOLAS requirements on the larger yachts. All these requirements come from a long experience in ship safety practice and analysis of past accidents, they are designed to save the lives of those on board and at least give them time to get off the vessel safely. The Code deals at length with coaming heights, hull and deck openings, fire insulation, escape routes, etc. Furnishings, mattresses, curtains, carpets, etc must be approved to be fire and toxic safe. Engine rooms and galleys must have good insulation and fire suppression systems.

Equipment: The Code details fire protection, and fire fighting and life-saving appliance standards. The radio requirements follow GMDSS regulations when over 300GT. Other equipment requirements are detailed in accordance with the relevant U.K. Merchant Shipping Regulations. Most yachts will have to increase their safety equipment to include at least a second fire and bilge pump outside the engine room, additional life rafts, fire detection, and a SART.

Manning: The Code sets manning levels for yachts, itemizing minimum numbers of deck and engineering personnel with qualifications ranging from Yacht master (with Commercial Endorsement) to DTp Class IV and V Certificates. These certificates were developed specially for yachts, but comply with The International Convention on Standards of Training, Certification and Watchkeeping for Seafarers (STCW). These MCA Certificates are not restricted to United Kingdom nationals, and it is not necessary to visit the UK to do the courses, or get the certification.
What are the Survey and Certification requirements?
All yachts covered by the Code will have to be surveyed for an International Load Line Certificate. Yachts under 500GT will additionally be issued with a Certificate of Compliance with the Code. Yachts over 300GT will be surveyed for a SOLAS Cargo Ship Safety Radio Certificate (GMDSS), and over 400GT for an International Oil Pollution Prevention Certificate (IOPP) in accordance with the MARPOL Convention. Over 500GT, yachts will be surveyed for SOLAS Certificates for Cargo Ship Safety Construction and Safety Equipment, and a SOLAS/STCW Safe Manning Document.
In the case of yachts which are in class, or under survey to be classed, by a Classification Society, much of this survey and certification may be undertaken by them. If not in class, then the process is far more difficult (perhaps impossible) as surveys are needed to prove the construction and machinery meet the Code standard.
What are the benefits of compliance?
First and foremost, it allows a Red Ensign yacht to continue to operate legally in the eyes of the Flag Administration and any IMO Convention State exercising Port State Control. In addition, apart from direct improvement in terms of yacht, crew and passenger safety, Code compliance and certification will enhance the image of the yacht in the charter and brokerage markets. Even yachts not engaged in commercial activity are encouraged to seek compliance not only for safety reasons but to increase their perceived value.
Charter and insurance brokers will be asking for these papers as they themselves may become liable if a vessel is not compliant for safety, especially should an accident occur. Some charter brokers plan to only list approved vessels for charter in Europe, following the advice of their lawyers. Owners are in a dangerous position should there be an accident, they may be deemed "criminally negligent".
What are the consequences of non-compliance?
Detention of the yacht and criminal penalties.

The Code is part of the Merchant Shipping Regulations, and the appropriate detention regulations apply. Furthermore, if the failure to comply renders the yacht "dangerously unsafe", the owner may be guilty of other offences under the Merchant Shipping Act.

Civil penalties.

In the event of any civil claim arising out of operation of the yacht, non-compliance (if relevant) could be viewed by the Court as an indicator of negligence, which could increase the likelihood of the owner and Captain being found liable for both damages and penalty settlements.

Insurance difficulties.

Failure to comply may constitute a breach of the warranty of legality, rendering the yacht's policy void. If the failure also makes the yacht un-seaworthy, insurers would be entitled to reject any claims. Non-compliance could place owners in breach of the "due diligence" provisions of the policy, thereby causing claims to fail.
What to do.
An initial inspection by the appointed MCA surveyor should be arranged as soon as possible. Before that, the Captain and Engineer should be fully knowledgeable of all the items in the Code. This is published in book form, available from Nautical Bookstores. The use of an independent MCA knowledgeable surveyor such as Richard O.J. Naylor, is very helpful in identifying the problem areas and proposing suitable alternative arrangements that can be offered to the MCA. He can also help with the arrangements to obtain a Load Line Certificate and Stability Book. He acts for the vessel in making the survey arrangements and negotiating with the MCA for equivalencies and alternatives to the defined rules. The MCA surveyor will not officially act as a designer or advisor and help where exemptions or alterations can be applied; he will only accept or reject proposals. In practice the surveyors are actually very helpful.
The MCA can certify the yacht for charter use within limited voyage ranges, between up to 60 miles. or 120 miles from a safe haven. A 60-mile range can be quite adequate for charters in the Mediterranean and Caribbean. By having a limited voyage range, some negotiation on difficult areas and requirements of the rules will be possible.
Changing the registry of the vessel is often suggested as an alternative to compliance. This is not recommended as many of these Registries, such as Antigua and St. Vincent & The Grenadines, while very willing to offer commercial certification to yachts, are not abiding by international rules and this is well known by Port State Control inspectors. In fact these "flags" are defined by the IMO and USCG as "sub-standard" as they have the highest rate of Port State Control detentions. There may well be more acceptable options in the future, however these are likely to be almost as onerous as the UK rules, due to the international base lines of SOLAS and the Load Line Convention.
Specializing in Greece - Turkey - North & South Cyprus
Dalton House, 60 Windsor Avenue, London SW19 2RR, England, UK